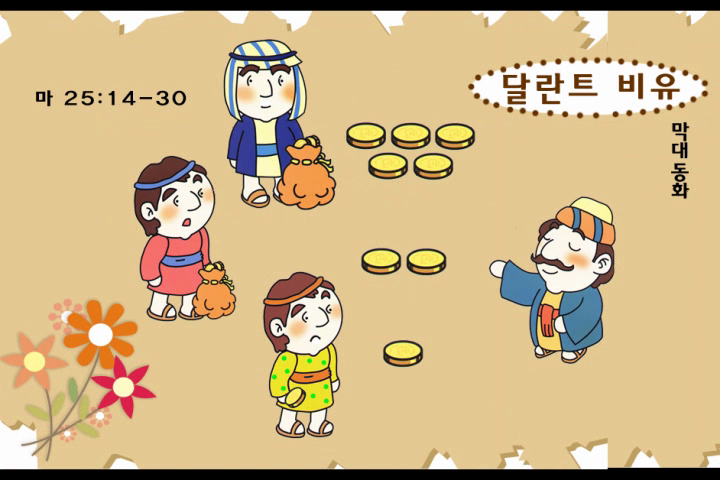 [Scriptures] Matthew 25:14-30
[Summary]
There was once an owner. The owner gave five talents, two talents and one talent to each of the three servants and left to go far away to another country. The ones who received five talents and two talents immediately put their talents to work and made more money. However, unlike those two people, the person who got one talent complained about the owner and resented him. It was because the money that he received from the owner was far less than the other people's. Hence, he just buried the money that he received in the ground.
Since the time had come, the owner came back. For the servants who made more money by running a business with the money that the owner gave, the owner acknowledged them as "good and faithful servants." However, for the servant who buried [the money] in the ground while complaining after receiving one talent, he was rebuked by the owner because he was a "bad and lazy servant." Moreover, he had to give the money that he received to the people he compared himself to.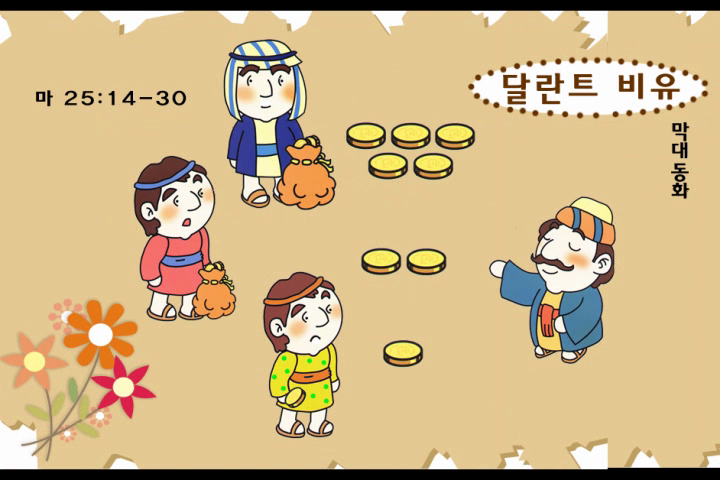 [본문]마태복음 25장 14절~30절
[줄거리]
한 주인이 있었습니다. 주인은 자기의 종 세명에게 각각 5 달란트, 2달란트, 1달란트를 주고 멀리 타지로 떠났습니다. 5달란트와 2달란트 받은 사람은 자기가 받은 달란트를 바로 가지고 장사를 해서 더 많은 돈을 남겼습니다. 하지만 1달란트를 가진 사람은 앞의 두 사람과 달리 '주인에 대한 불평,원망'의 마음에 일어났습니다. 자기가 받은 돈이 다른 사람이 받은 돈보다 엄청 작은 것이었습니다. 그래서 그는 자기가 받은 돈을 그냥 땅에 묻어두었습니다.

때가되어 주인이 돌아왔습니다. 주인이 준 돈으로 장사를 해서 더 많은 돈을 남긴 종들은 주인에게 "착하고 충성된 종"이라는 인정을 받았습니다. 그러나 1달란트를 받고 '불평'과 함께 땅에 돈을 묻었던 그 종은 "악하고 게으른종"이라고 혼난것 뿐 아니라, 자기가 비교했던 그 사람들에게 자기가 가진 돈마저 넘겨주어야 했습니다.