[Card News] JMS Chairman, Jung Myung Seok, and the Days of God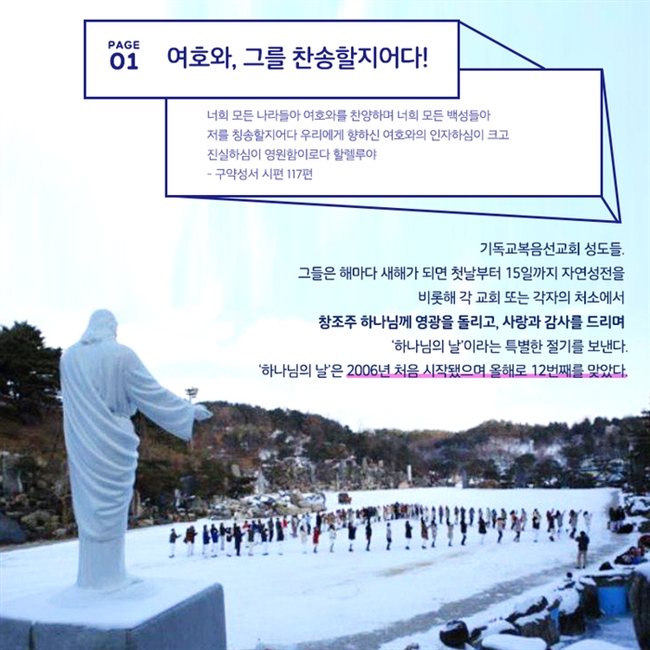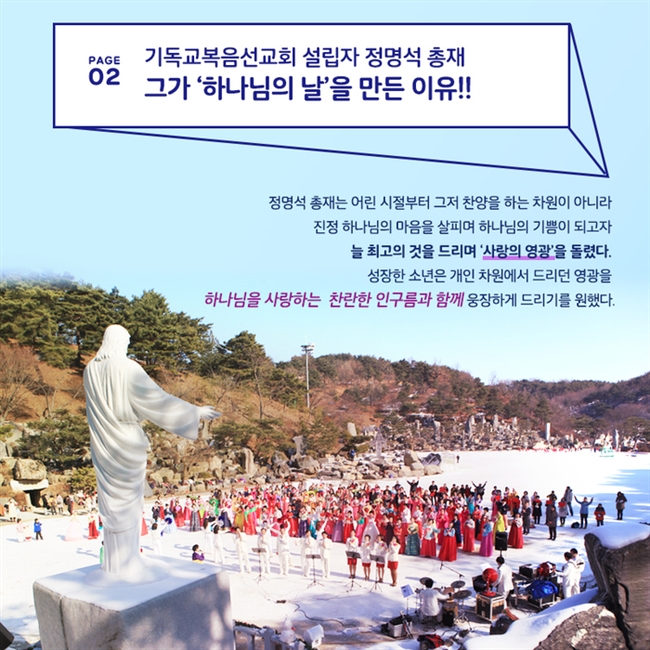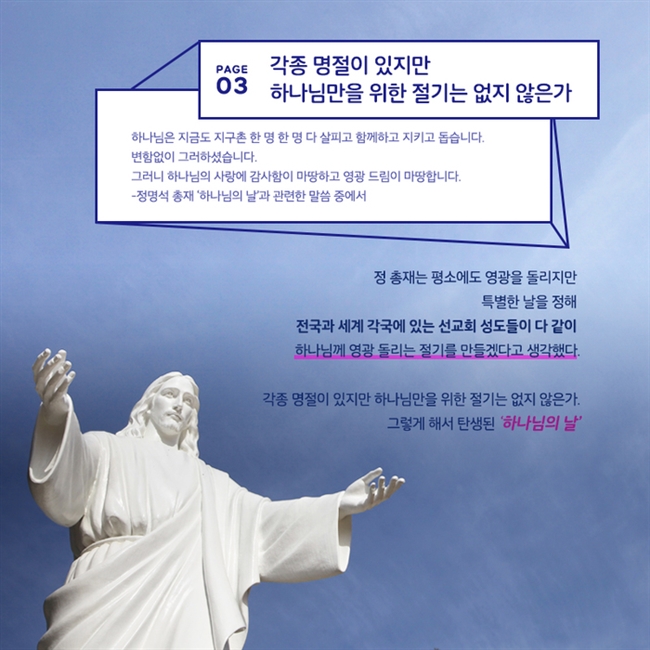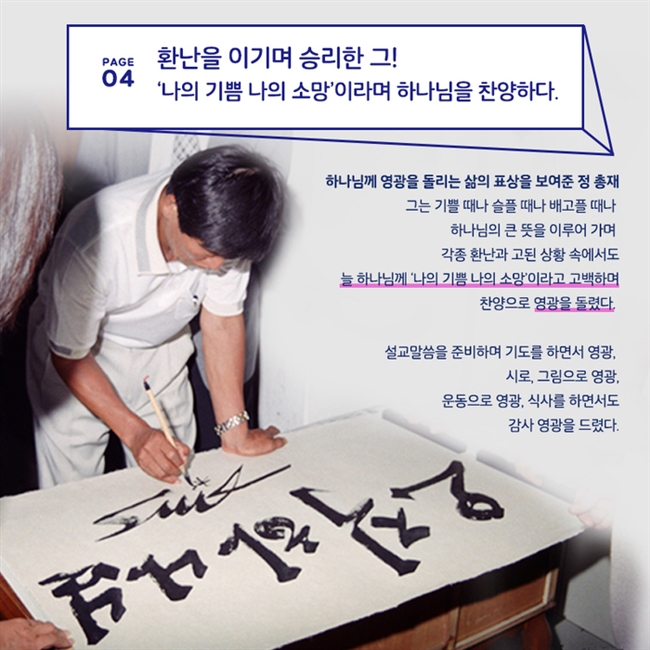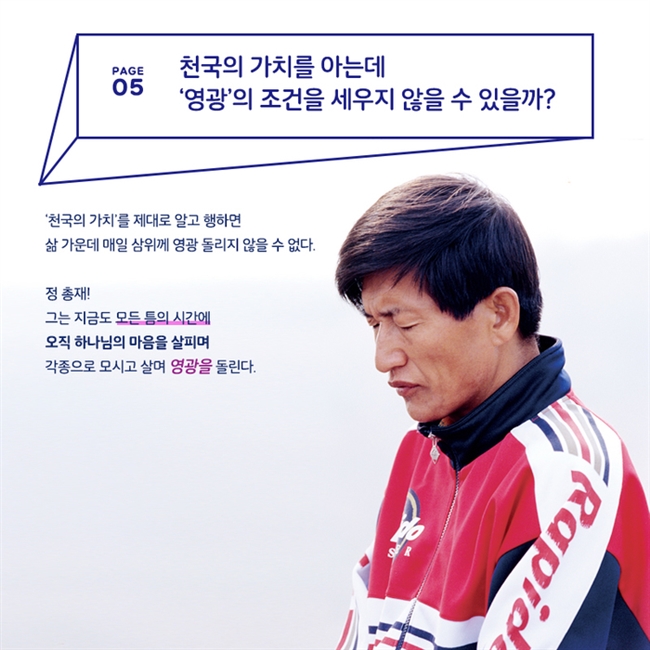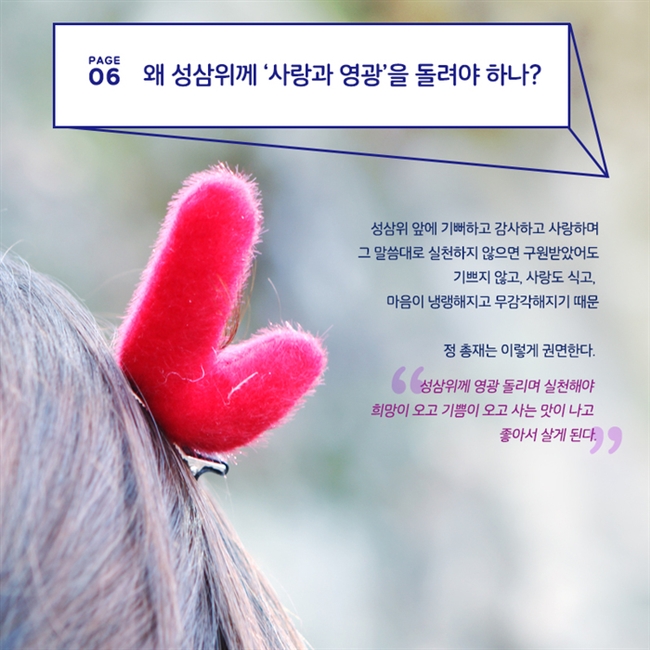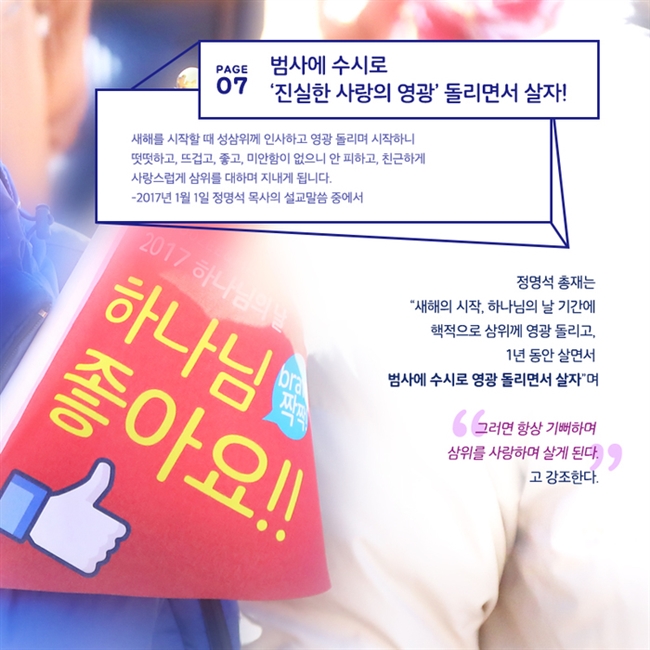 1. Praise Him, Jehovah!
Praise the Lord, all you nations;
extol him, all you peoples.
For great is his love toward us,
and the faithfulness of the Lord endures forever.
Praise the Lord.
- Old Testament Psalm 117
Every year, when the new year arrives, from day one to day fifteen,
the members of Christian Gospel Mission spend a special period, called the Days of God, giving glory, love, and thanks to God the Creator at their churches or wherever they may be, including at the Natural temple.
The Days of God began for the very first time in 2006, with this year marking the 12th time.
2. The reason Christian Gospel Mission Chairman, Jung Myung Seok, created the Days of God
When Chairman Jung was a child, he truly sought after God's heart and gave the glory of love while giving his best to make God happy, instead of only praising to Him.
After becoming a young man, he wanted to give glory to God in a majestic way by offering brilliant human clouds who loved God, rather than giving glory at an individual level like he had done in the past.
3. There are various kinds of holidays, but there is no season solely for God.
Even now, God is taking care of every person on the earth, protecting them, and helping them. He has been doing it without changing. Therefore, it is absolutely proper to be thankful for God's love and to give glory to Him.
- From Chairman Jung Myung Seok's message related to the Days of God
Chairman Jung had this thought in mind: although he always gave glory to God, he wanted to specially designate certain days as a period of time during which members in Korea and all over the world would give glory to God together.
There are various holidays, but there is no season for God alone.
This triggered the initiation of the Days of God.
4. He, who became victorious at overcoming tribulations, praised God, "He is My Joy and My Hope."
Chairman Jung showed the standard life of giving glory to God.
Whenever he was happy, sad, hungry, or even in a difficult situation, facing all kinds of tribulations while fulfilling God's great Will, he always confessed to God, "You are My Joy and My Hope," and giving glory to Him through praise.
He gave glory while preparing sermons or praying, gave glory through poetry and paintings, gave glory through sports, and gave glory and thanks even while having a meal.
5. If you know the value of Heaven, is it possible to not set a condition of giving glory?
If you know the value of Heaven correctly and take action, you cannot help but give glory to the Trinity in everyday life.
Chairman Jung, even now and every single moment, seeks only after God's heart, serves Him in various ways, and gives glory to Him.
6. Why do we have to give glory and love to the Holy Trinity?
It is because if we do not rejoice, be thankful, love, and take action according to the Word before the Holy Trinity, we wouldn't be happy, the love would cool down, and the heart would become cold and dull even though we were saved.
Chairman Jung encourages us in this manner:
"When you take action giving glory to the Holy Trinity, hope will come, joy will come, and you will feel like you are living, so you will live a happy life."
7. Let's live giving the glory of true love always and frequently!
Since you begin the new year by greeting the Holy Trinity properly and giving glory to Them, you feel proud, fervent, and good, and you won't feel sorry. Therefore, you won't purposely avoid Them, and you will stay close to the Trinity, treating Them with love.
- From the January 1, 2017 message from Pastor Jung Myung Seok
Chairman Jung said, "At the beginning of the new year, let's give glory to the Trinity completely during the Days of God, and throughout the year, let's live giving glory to Them frequently in your daily life." He emphasized, "Then you will live always rejoicing and loving the Trinity."
Original article : http://www.newswave.kr/361201
[카드뉴스] JMS 정명석 총재와 하나님의 날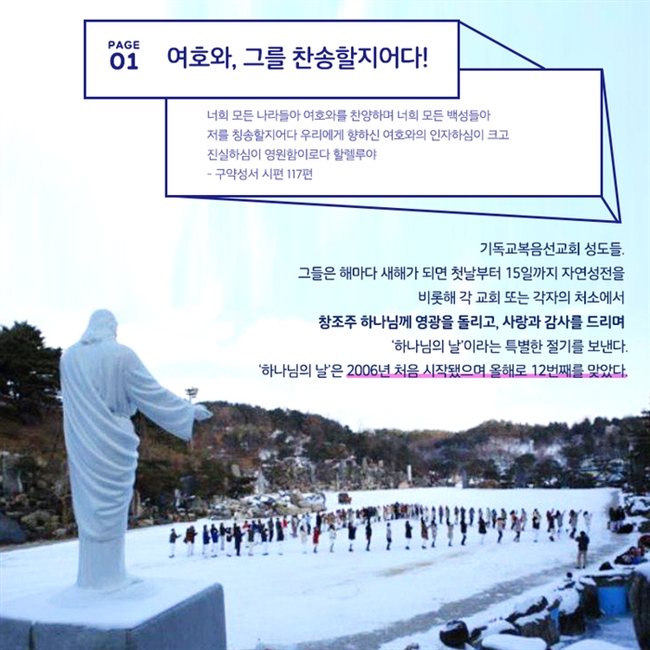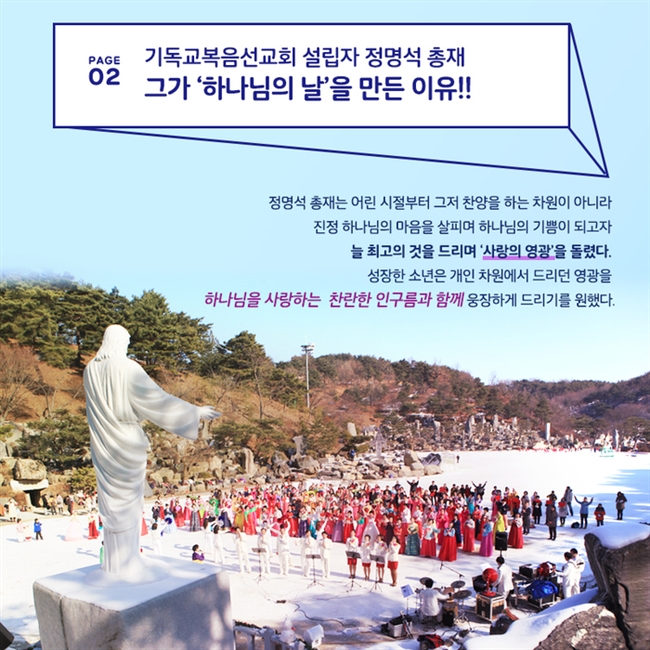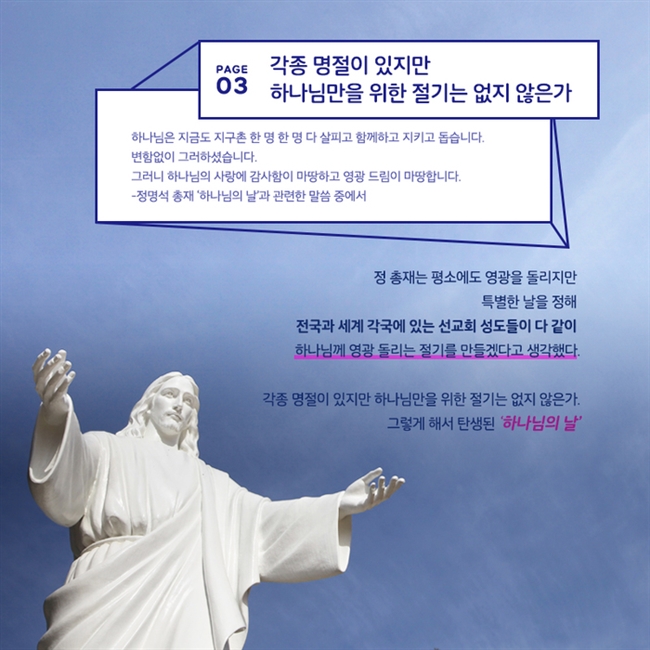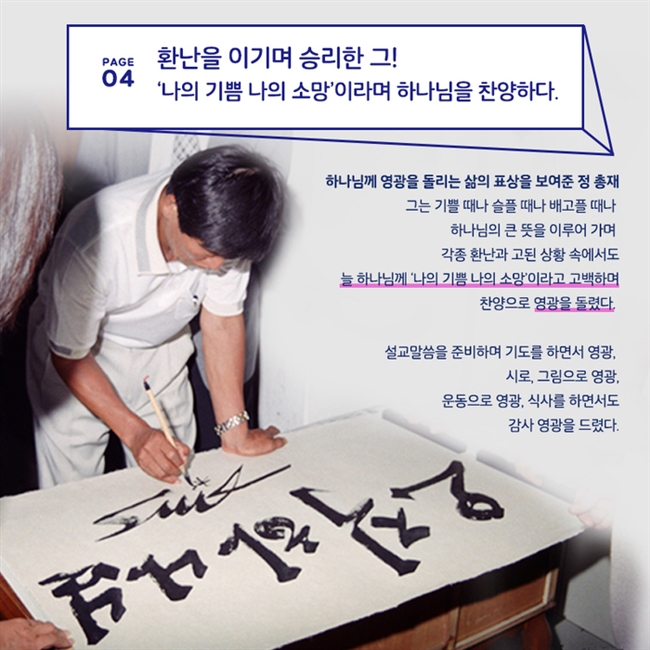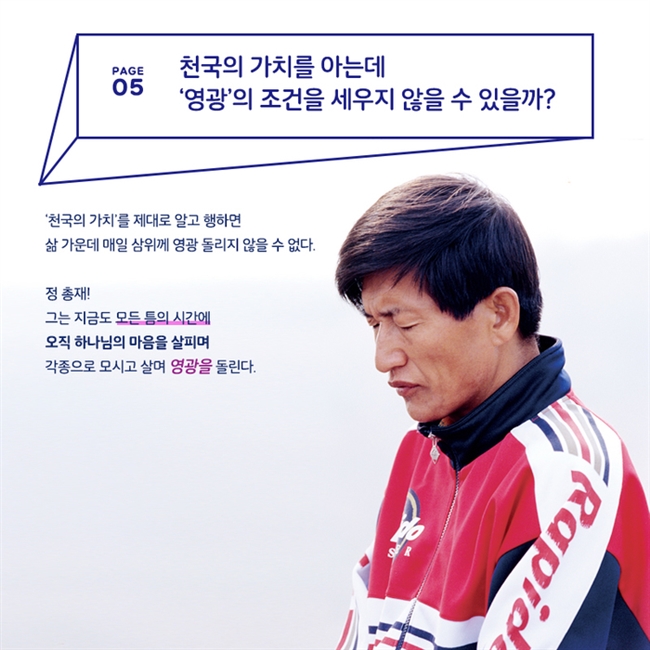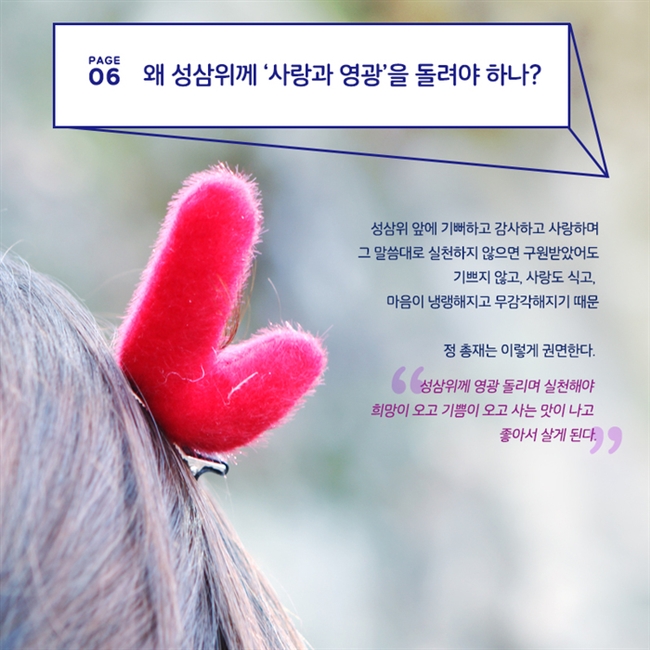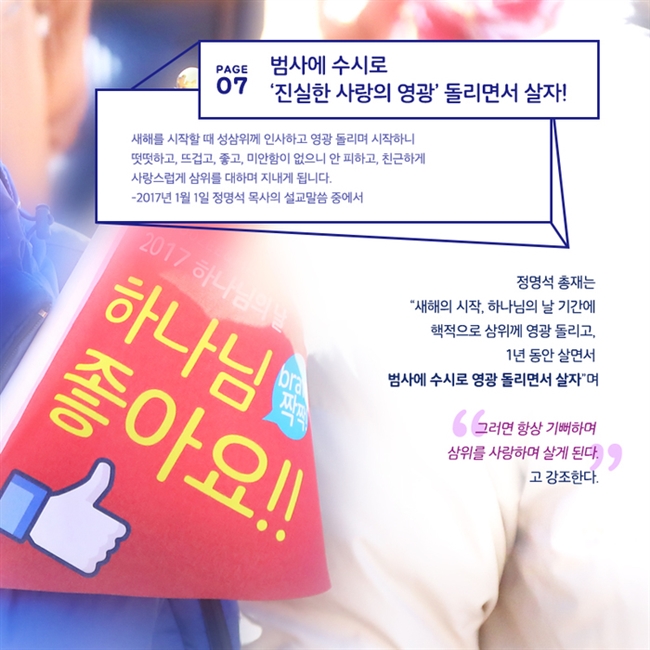 1.
여호와
,
그를 찬송할지어다
!
너희 모든 나라들아 여호와를 찬양하며 너희 모든 백성들아
저를 칭송할지어다 우리에게 향하신 여호와의 인자하심이 크고
진실하심이 영원함이로다 할렐루야
-구약성서 시편 117편
기독교복음선교회 성도들.
그들은 해마다 새해가 되면 첫날부터 15일까지 자연성전을
비롯해 각 교회 또는 각자의 처소에서
창조주 하나님께 영광을 돌리고, 사랑과 감사를 드리며
'하나님의 날'이라는 특별한 절기를 보낸다.
'하나님의 날'은 2006년 처음 시작됐으며 올해로 12번째를 맞았다.
2. 기독교복음선교회 설립자 정명석 총재.
그가 '하나님의 날'을 만든 이유
정명석 총재는 어린 시절부터 그저 찬양을 하는 차원이 아니라
진정 하나님의 마음을 살피며 하나님의 기쁨이 되고자
늘 최고의 것을 드리며 '사랑의 영광'을 돌렸다.
성장한 소년은 개인 차원에서 드리던 영광을 하나님을 사랑하는
찬란한 인구름과 함께 웅장하게 드리기를 원했다.
3.각종 명절이 있지만
하나님만을 위한 절기는 없지 않은가.
하나님은 지금도 지구촌 한 명 한 명 다 살피고
함께하고 지키고 돕습니다.
변함없이 그러하셨습니다.
그러니 하나님의 사랑에 감사함이 마땅하고
영광 드림이 마땅합니다.
-정명석 총재 '하나님의 날'과 관련한 말씀 중에서
정 총재는 평소에도 영광을 돌리지만 특별한 날을 정해 전국과 세계 각국에 있는
선교회 성도들이 다 같이 하나님께 영광 돌리는 절기를 만들겠다고 생각했다.
각종 명절이 있지만 하나님만을 위한 절기는 없지 않은가.
그렇게 해서 탄생된 '하나님의 날'.
4. 환난을 이기며 승리한 그.
'나의 기쁨 나의 소망'이라며 하나님을 찬양하다.
하나님께 영광을 돌리는 삶의 표상을 보여준 정 총재.
그는 기쁠 때나 슬플 때나 배고플 때나
하나님의 큰 뜻을 이루어 가며 각종 환난과 고된 상황 속에서도
늘 하나님께 '나의 기쁨 나의 소망'이라고 고백하며
찬양으로 영광을 돌렸다.
설교말씀을 준비하며 기도를 하면서 영광, 시로, 그림으로 영광,
운동으로 영광, 식사를 하면서도 감사 영광을 드렸다.
5. 천국의 가치를 아는데
'영광'의 조건을 세우지 않을 수 있을까.
'천국의 가치'를 제대로 알고 행하면 삶 가운데
매일 삼위께 영광 돌리지 않을 수 없다.
정 총재. 그는 지금도 모든 틈의 시간에 오직 하나님의 마음을
살피며 각종으로 모시고 살며 영광을 돌린다.
6.왜 성삼위께
'사랑과 영광'을 돌려야 하나?
성삼위 앞에 기뻐하고 감사하고 사랑하며
그 말씀대로 실천하지 않으면 구원받았어도
기쁘지 않고, 사랑도 식고, 마음이 냉랭해지고 무감각해지기 때문.
정 총재는 이렇게 권면한다.
"성삼위께 영광 돌리며 실천해야 희망이 오고
기쁨이 오고 사는 맛이 나고 좋아서 살게 된다."
7.범사에 수시로 '진실한 사랑의 영광' 돌리면서 살자!
새해를 시작할 때 성삼위께 인사하고
영광 돌리며 시작하니 떳떳하고, 뜨겁고, 좋고,
미안함이 없으니 안 피하고, 친근하게
사랑스럽게 삼위를 대하며 지내게 됩니다.
-2017년 1월 1일 정명석 목사의 설교말씀 중에서
정명석 총재는 "새해의 시작, 하나님의 날 기간에 핵적으로 삼위께 영광 돌리고,
1년 동안 살면서 범사에 수시로 영광 돌리면서 살자"며
"그러면 항상 기뻐하며 삼위를 사랑하며 살게 된다."고 강조한다.