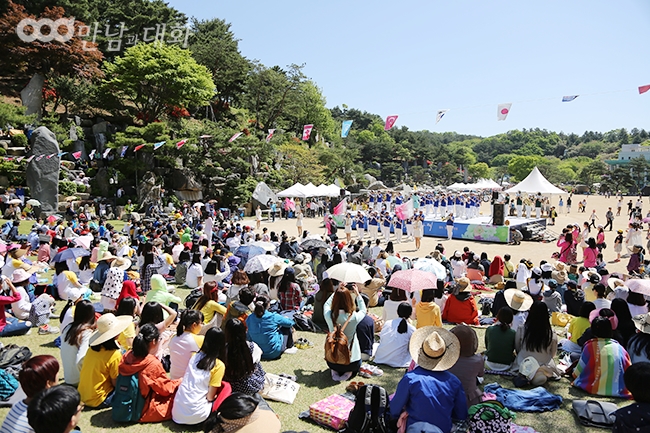 ▲ Giving glory on the lawn of the Natural Temple

An event to commemorate the 93rd children's day was organized by the Christian Gospel Mission (CGM), and was held on May 5, 2015 on the Wolmyeongdong (WMD) lawn and the sports field.

This year, the Children's Day celebration was held during the same period as the 3rd Flower Queen Festival. Approximately 15,000 members of CGM, comprising both children and adults, attended the ceremony. In addition to the ceremony, there were activities prepared for the participants to enjoy, such as an art experience booth.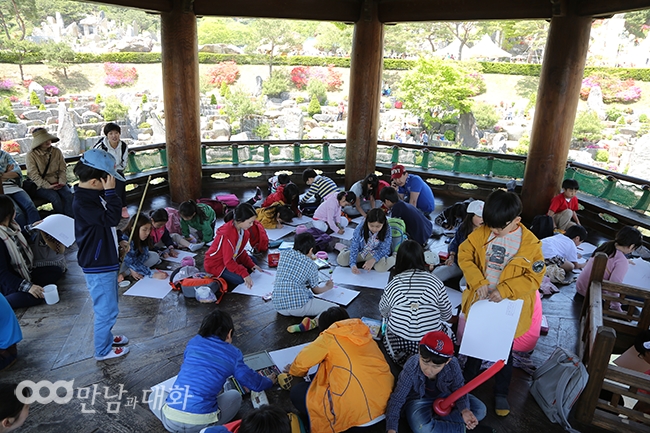 ▲ Children drawing at the Pond Gazebo, participating in the Hope Tree Art Festival.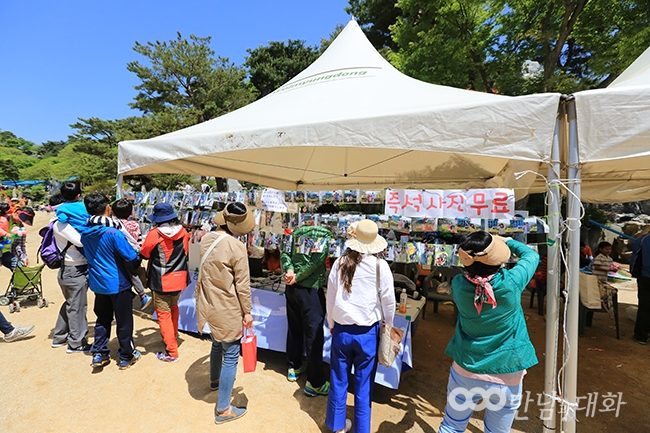 ▲ People drawn to the pictures displayed at the free instant photo booth


When the Children's Day ceremony ended, the children and parents sang praises and offered prayers to the Trinity on the stage of the WMD Natural Temple. When the praising time began and the children came onto the stage to cheer dance, everyone on the lawn also arose and gave glory with cheer dance. It was a beautiful scene.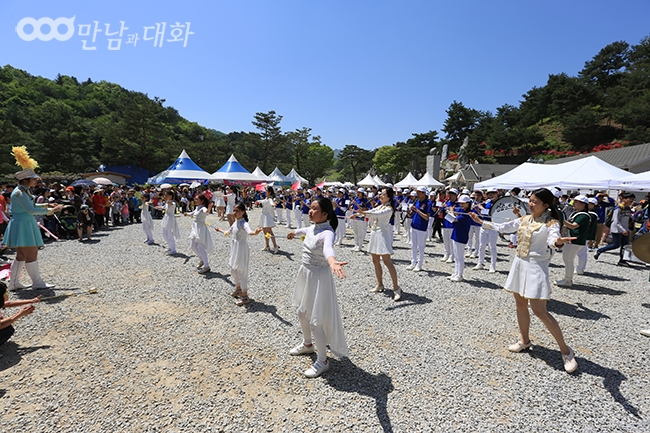 ▲ The Marching Band giving glory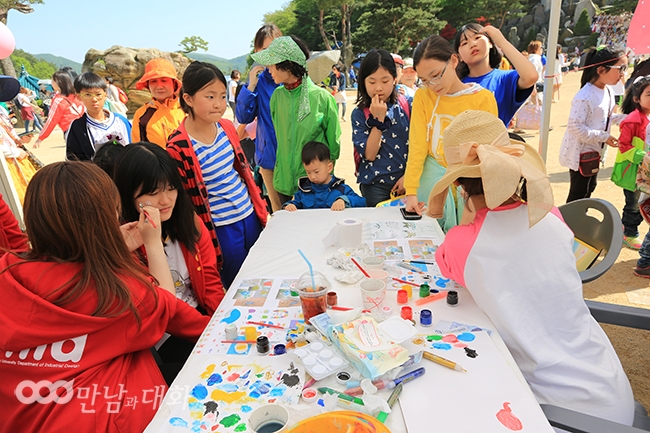 ▲ Children at the face painting booth

The attractions at the event were: the food booths, the Milky Way Hope Tree Art Festival, pottery making, face painting, free instant photos, various programs such as the 'Daily Life Coaching' program and the 'Lecture 100 degree' program. Also, Pastor Jung Beom Seok, the head of the WMD Training Center, presented free balloons to the children who visited WMD.


Numerous small marching bands made up of a few adults and children performed in various locations throughout WMD. Those marching bands fueled the excitement of the event. This event showed the Trinity's love and grace for the children.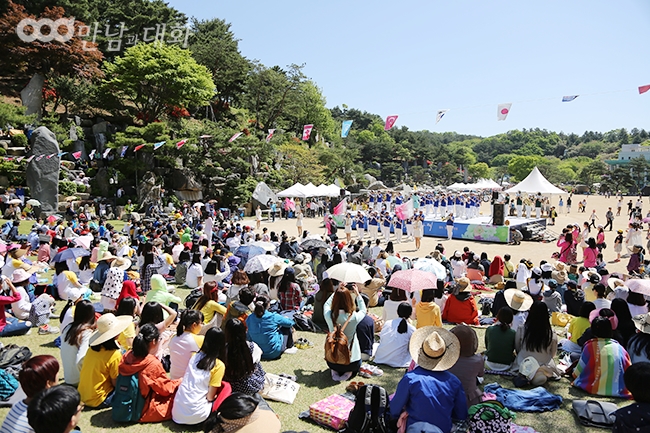 ▲ 자연성전 잔디밭에서 하늘 앞에 영광 돌리는 모습
기독교복음선교회는 지난 5일 제 93회 어린이날을 맞이해 월명동 운동장에서 어린이날 행사를 가졌다.

제 3회 꽃 여왕 축제 기간에 맞이한 이번 어린이날 행사에는 기독교복음선교회 회원 어린이와 학부모 등 약 만오천명이 참여한 가운데 기념식과 함께 체험 부스를 중심으로 다채로운 행사가 진행되었다.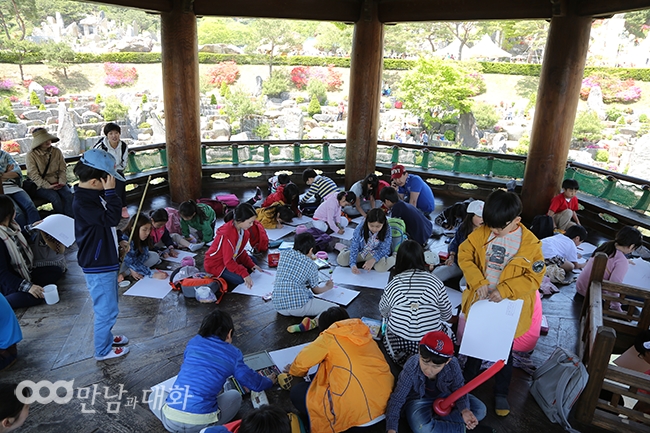 ▲ 연못 팔각정에서 은하수 희망나무 미술제에 참석한 어린이들이 그림을 그리고 있다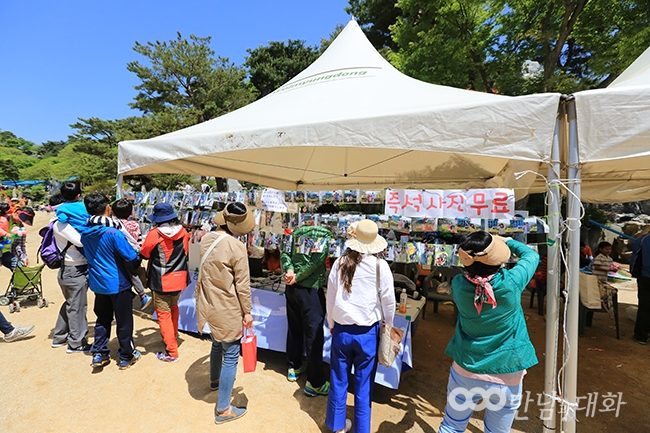 ▲ 무료 즉석 사진 부스에서 찍어 놓은 사진을 구경하고 있다

기념식이 끝나고 어린이와 학부모가 월명동 자연성전에 설치된 무대에서 찬양과 기도로 성삼위께 영광을 돌리는 시간을 가졌다. 찬양이 시작되어 어린이들이 나와서 치어를 하자 잔디밭에 앉아 있는 모든 사람들이 일어나 성삼위께 몸 찬양을 드리는 장관을 연출하였다.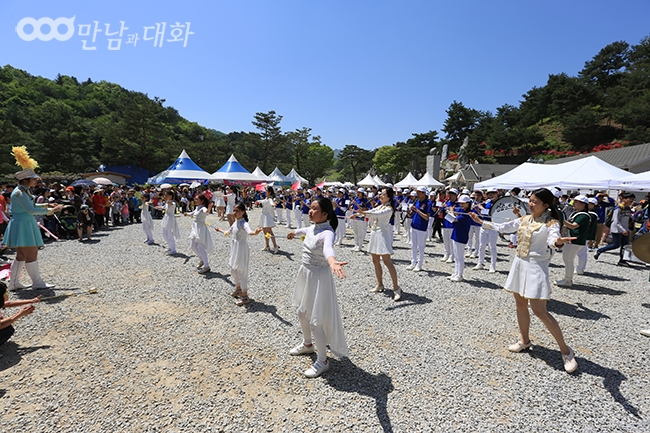 ▲ 관악대들이 영광 돌리는 모습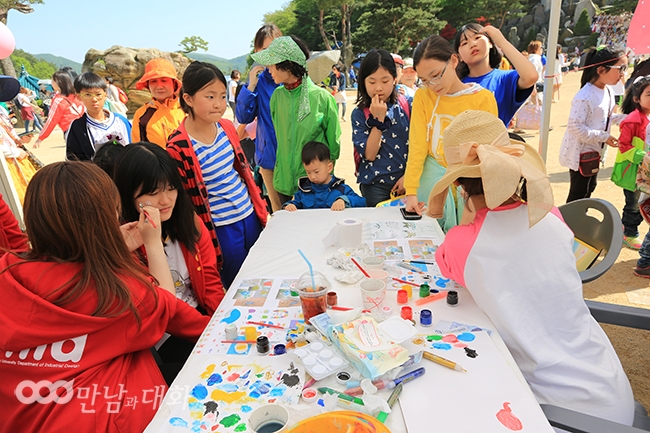 ▲ 페이스 페인팅을 하고 있는 모습
부대 행사로는 먹거리, 은하수 희망나무 미술제, 도자기 만들기 체험, 페이스페인팅,무료 즉석 사진 등이 운영됐으며, '함께 하는 생활 코칭' ' 강연 100c' 등 다양한 프로그램이 펼쳐졌다. 또한 월명동 수련원장인 정범석 목사가 월명동을 방문한 어린이들에게 무료로 풍선을 증정하는 이벤트도 진행되었다.


월명동 곳곳마다 어린이와 어른이 함께 하는 관악대들이 연주를 하여 큰잔치에 흥을 더했다. 이번 행사를 통해 어린이들에게 성삼위의 사랑과 은혜를 전하는 시간을 만들었다.