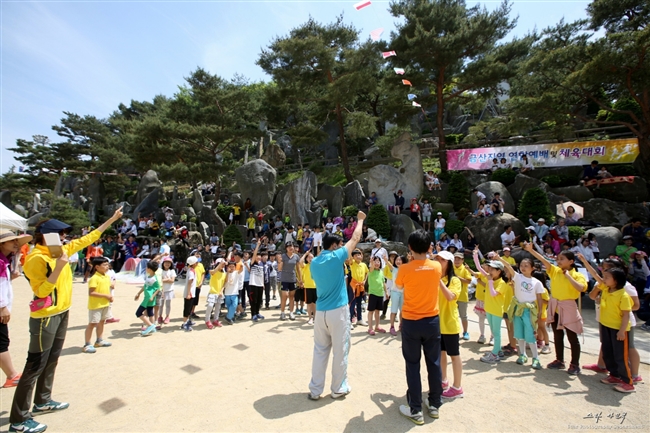 Members of the Christian Gospel Mission (CGM) from Geumsan held a united sports festival on May 17, 2015 in the Wolmyeongdong Sports Field.

Before the sports festival began, a solar halo appeared in the sky above Wolmyeongdong. A solar halo is a symbol of eternity. The Trinity made the solar halo appear as a sign to show people that the Trinity was with those at the festival.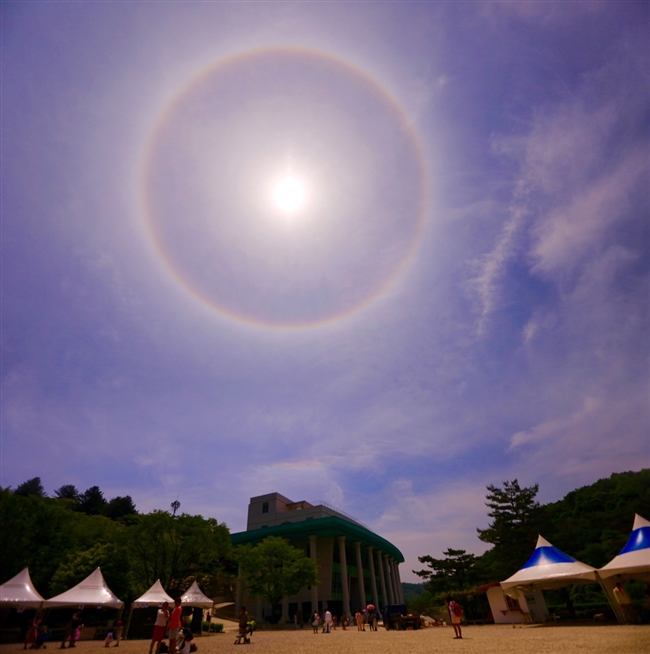 ▲ A solar halo in the sky above Wolmyeongdong


The festival kicked off with praise and prayer. Also, the representatives of each church vowed to play fairly. The festival was comprised of many activities, such as dodgeball, a plank walking race, hurdles, tug-of-war and a relay race.

Husbands teamed up with their wives to play dodgeball, and, as they played the festival games together, they were able to reignite the love they had for each other. Each child was also able to team up with one of their parents to compete in a plank walking race. While working together, both the children and parents were able to learn how to understand and be considerate of each other's hearts. Playing the games ended as very meaningful experience for them.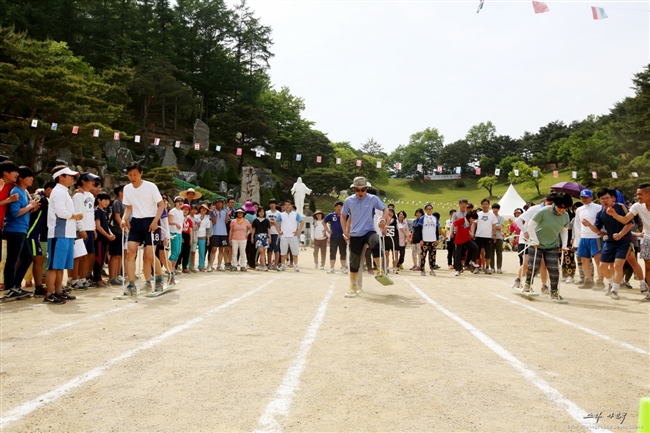 ▲ Teams consisting of a parent and their child competed against each other in a plank walking race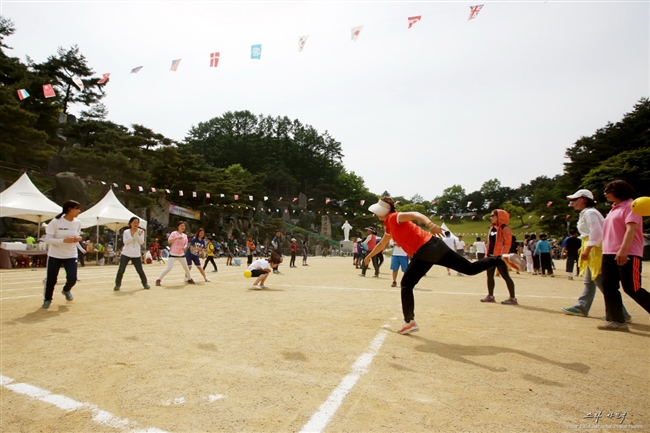 The members who ran hurdles gained greater confidence, realizing that even if there may be many obstacles in the future, they will overcome those obstacles and achieve the goals they have set. There were many turning points during the race, which fueled the excitement.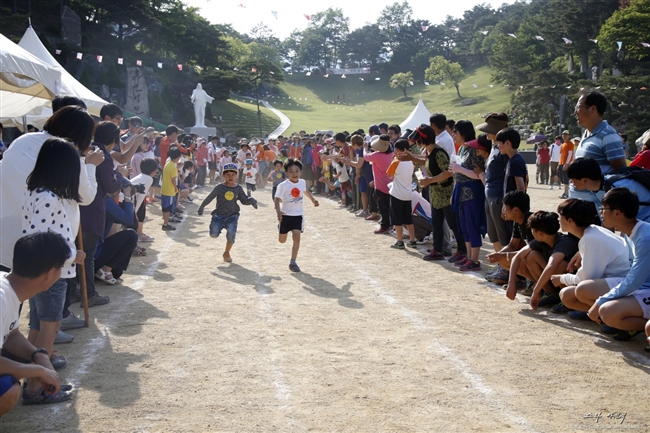 The members who played tug-of-war realized just how important unity with one another is. The highlight of the festival was the relay race. Excitement was at its highest peak. Everyone was cheering for their team to win as they zealously called on the Trinity.

The festival came to an end with a raffle. So not only were people's hearts filled with joy, but their hands were also full of prizes.
The Wolmyeongdong Church placed first in the festival, the Geumsan Region United Team came in second, and a church from Geumsan came third.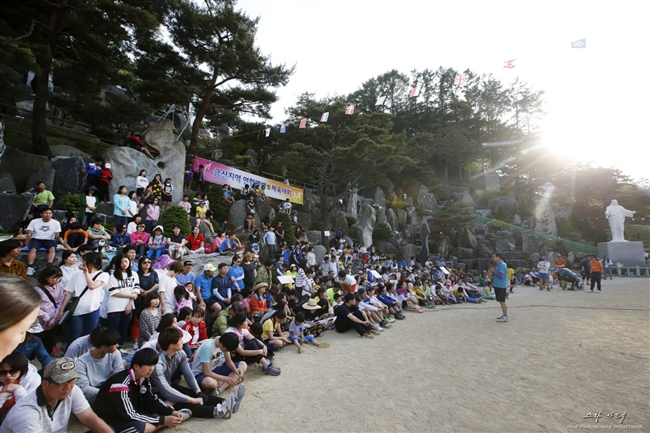 When everyone from the Geumsan region--from the Milky Way members to the Joy Star members--was giving glory to the Trinity on the Wolmyeongdong Sports Field, the Trinity made an eagle fly around in the sky above Wolmyeongdong as a sign of Their love.

We give all glory to the Trinity who taught us about the importance of exercise, gave us the opportunity to give glory to Them through sports, and gave us the opportunity for the members of the Geumsan region to unite.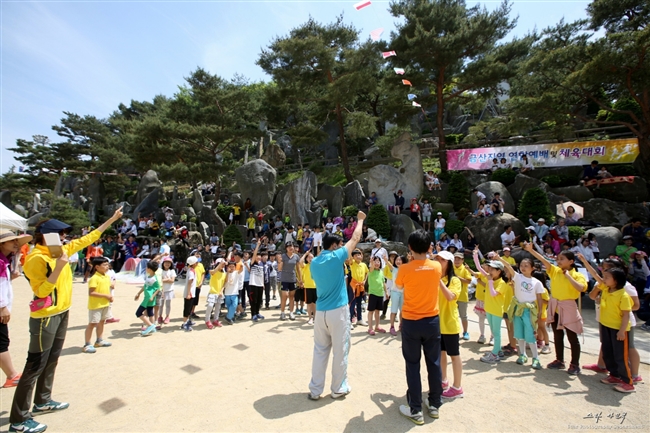 기독교복음선교회 금산지역회는 지난 17일 월명동 운동장에서 금산지역회 연합체육대회를 개최하였다.

이날 체육대회 행사전부터 '결코 영원히 죽지 않는다'는 영원 불변의 의미를 가진 해무리(원형 무지개)를 보여주시며 영원하신 성삼위께 함께 해주심을 보여주셨다.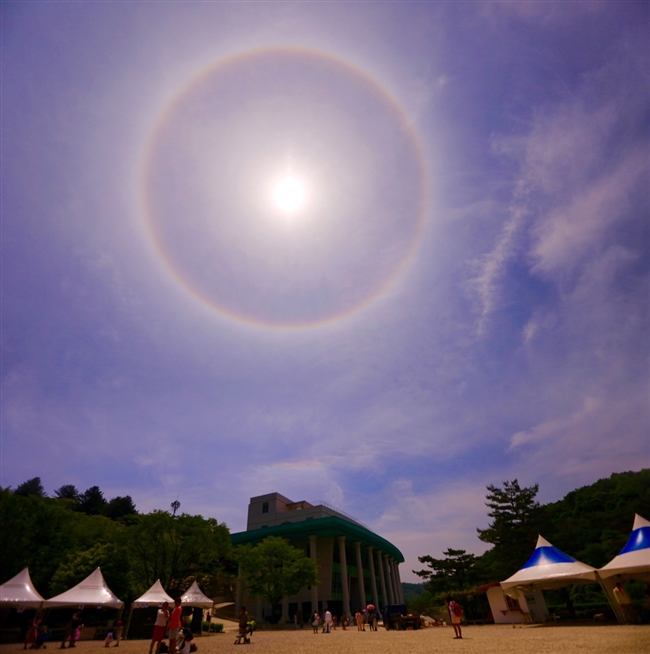 ▲ 월명동에 뜬 해무리


금산지역회 연합 체육대회를 준비 찬양과 기도로 시작하였다. 각 교회 대표선수들이 정정당당히 임하겠다는 선서를 하고, 피구, 2인3각 달리기, 장애물달리기, 단체줄다리기, 계주 등의 종목으로 진행이 되었다.

부부가 2인1조가 되어 하는 피구는 부부간의 사랑을 더욱 확인하는 시간이었으며, 부모와 자녀가 함께 하는 2인3각 달리기를 통해 서로의 마음을 조금이나마 이해하고 배려하는 것을 배우는 아주 뜻깊은 종목이었다.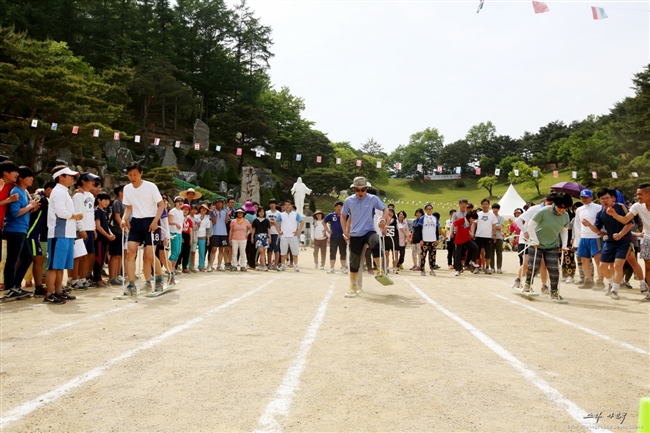 ▲ 부모와 자식이 함께 한 2인 3각 달리기를 하는 모습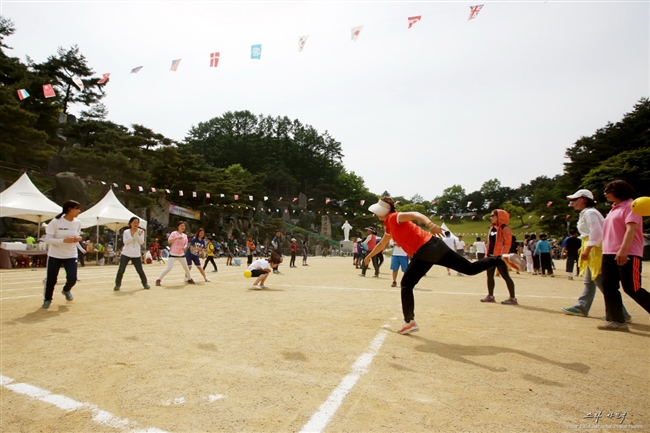 장애물 달리기를 통해선 우리 인생에 수많은 장애물들이 있다할지라도 다 극복하고 할 수 있다는 강한 자신감을 심어주었으며, 진행 중간 중간에 역전에 역전을 하는 아주 재미있는 모습도 많이 연출이 되었다.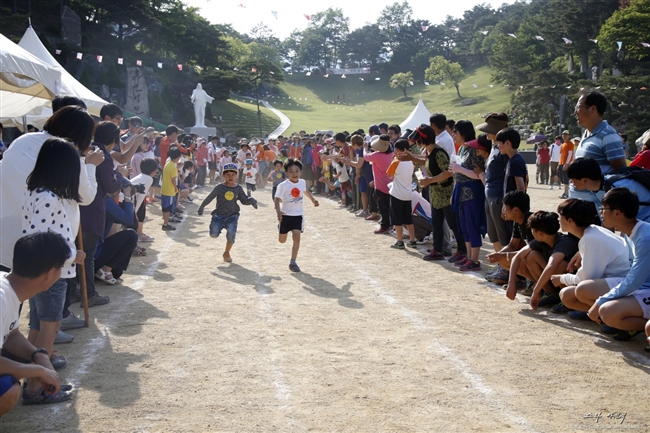 단체 줄다리기를 통해서는 서로 하나 되는 것이 얼마나 중요한지를 다시 깨닫는 귀한 시간이 되었으며, 체육대회의 하이라이트라고 할 수 있는 계주에서는 더욱 박진감을 고조시켰으며 누가 먼저라고 할 것 없이 이기기를 응원하며 그 가운데 성삼위를 더욱 간절히 부르게 되었다.

마지막으로 푸짐한 경품추첨으로 우리의 마음 뿐 아니라 우리의 두 손도 풍족하게 채워주셨다.
이날 종합우승은 월명동교회, 준우승은 금산지역회 연합팀, 3위는 금산에 위치한 교회가 차지하였다.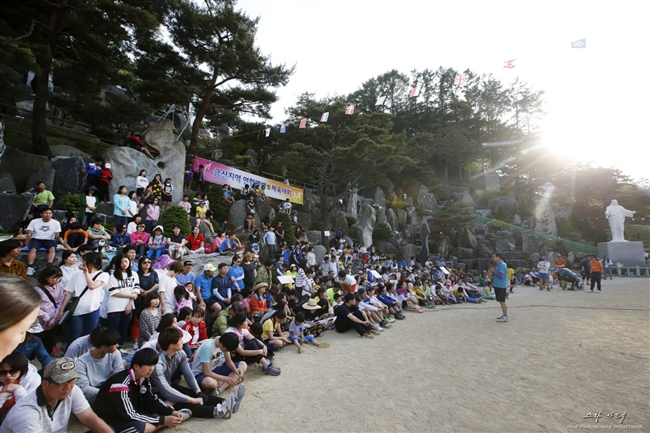 장년부부터 은하수까지 금산지역회의 교인들이 월명동에 모여 운동으로 영광을 돌리는 중 독수리가 전체를 둘러보고 날아가는 또 하나의 표적을 보여주심으로 인해 하늘의 사랑을 더욱 확인할 수 있는 뜻깊은 시간이 되었다.

운동의 필요성을 깨우쳐 주시고, 운동을 통해 온 몸으로 영광을 돌리며 하나될 수 있는 기회를 주신 성삼위께 모든 영광을 돌리고자 한다.