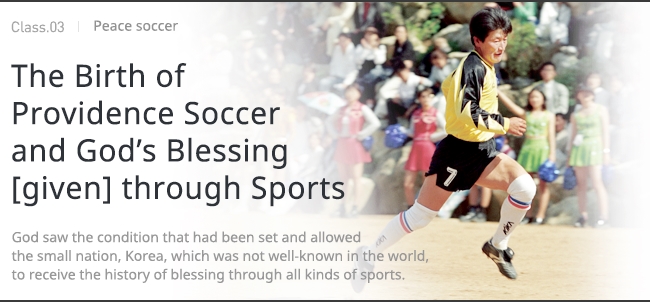 Recovering health through taking action immediately according to Heavens' inspiration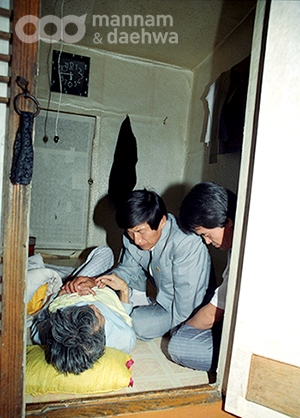 President Jung Myeong Seok, who is the founder of Peace Soccer, started spreading the gospel in Seoul because of the calling of the Heavens, the calling which told him to spread the gospel to the world from the beginning of the 1980s. He delivered the Word day and night without resting and ate and lived with all kinds of patients including those with tuberculosis. As a result of that, he became ill like them. Two-thirds of his lung suddenly became worse, so he could not help but live undergoing medical treatment in hospital.
At that time, he earnestly asked God for his health to recover and he received the inspiration that 'I will give you two hours from 6am to 8am after pre-dawn prayer so run around a sports field and also play soccer.' As soon as he received the inspiration, he started to play sports after pre-dawn service at the middle school that was close to where he was living.
He ran around the dirt sports field or played soccer on it as he breathed the fresh air and inhaled the smell of the field. When he checked his health after he had exercised for six months, the test result showed that he had fully recovered his health, the health of his disciples had improved, and their stamina also had improved to become like steel.
Soccer is also displaying faith in God and giving glory to God
After President Jung Myeong Seok recovered his health through soccer, he played soccer together with his disciples for five to seven hours a day. One day, he thought, 'I came here to deliver the Word but am I playing soccer too much?' and felt sorry to God and the Holy Son. At that time, the Lord made him realize, 'Soccer is also displaying faith in God and giving glory to God.' He received so much grace thinking, 'This is the Lord's grace,' and was able to keep playing soccer.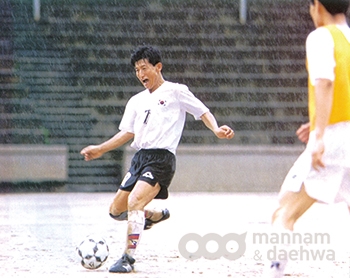 President Jung Myeong Seok told his disciples not only to play soccer but also to evangelize many people for God with their healthy bodies as they played soccer. Therefore, he evangelized people who came to the soccer field to watch the game and led them to believe in and love God. He testified that through soccer, God made him realize how to lead Providence history, and through spreading the gospel, to love and to overcome the temptations of the world.
Moreover, while playing soccer President Jung Myeong Seok did not consider the opposing team to be [his] enemies but his lovers, learned 'Peace Soccer' from the Lord, and taught it to people. That is why in Providence soccer is not only [played] for health but also to praise God, take action upon the Lord's love, spread the gospel and fulfill peace in the world.
Korea came to receive God's blessings through sports.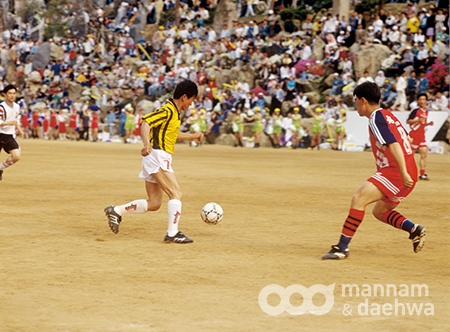 Soccer became songs of praise and glory that President Jung Myeong Seok and his disciples offered to God and, through soccer, they learned how to take action upon the Word. God saw that condition and allowed the history of blessing [to be received] through all kinds of sports by this small nation, Korea, which was not well-known by the rest of the world.
The first opportunity for Korea was the opportunity to hold the Seoul Olympics in 1988, the second was the Korea-Japan Soccer World Cup in 2002, the third, the Daegu World Championship in Athletics in 2011, and the fourth is the opportunity to hold the Pyeongchang Winter Olympics in 2018. As a result, Korea will be the sixth nation to have hosted all of these four world sporting events, after Germany, Italy, France, Russia, and Japan. In addition, it was registered as the nation of the 'World's Four Sports Grand Slam.' Because of this, it became an innovative opportunity to raise the whole nation's image and calibre.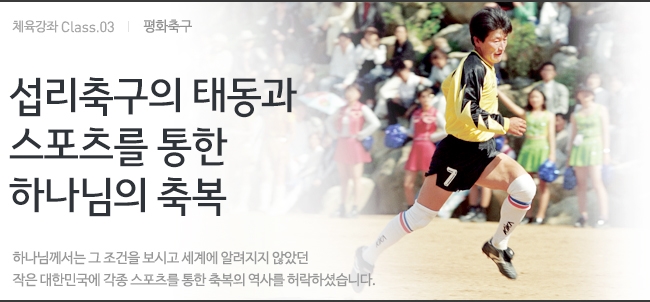 하늘의 감동대로 바로 실천하여 회복된 건강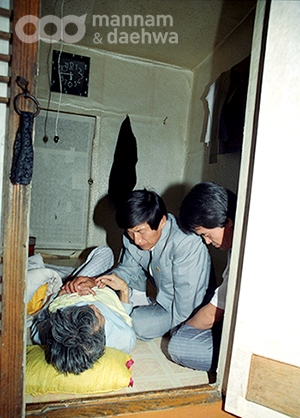 평화축구의 창시자인 정명석 총재는 1980년대 초 세상에 나가서 복음을 전하라는 하늘의 부르심으로 서울에서 복음을 전했습니다. 정명석 총재는 사람들이 모여들며 밤낮 쉬지 않고 말씀을 전하고, 결핵환자 및 각종 환자들을 위해 그들과 같이 먹고 살다보니 그들과 같이 병이 왔습니다. 폐의 3분의 2가 급격하게 나빠지게 되어 병원에서 투병 생활을 할 수 밖에 없었다고 합니다.


그때 정명석 총재는 건강을 회복시켜 달라고 하나님께 간구했고, '새벽기도 끝나고 오전 6시에서 8시까지 두 시간을 줄 테니 운동장도 돌고 축구도 하라' 는 영감을 받게 되었습니다. 영감을 받은 즉시 정명석 총재가 살고 있던 가까운 중학교에서 새벽예배가 끝나면 운동을 했습니다.
흙바닥으로 된 운동장에서 좋은 공기를 마시고 흙냄새를 맡으며 운동장을 뛰어다니거나, 축구를 했습니다. 그렇게 운동을 6개월동안 한 후에 검사를 해보니 총재님의 건강이 완전히 회복되었고 제자들의 건강도 좋아지고 체력도 강철같이 되었다고 합니다.

축구도 하나님의 신앙을 보여주고 하나님께 영광 돌리는 것

축구로 건강을 회복하고 난 후 제자들과 함께 하루에 5~7시간 동안 축구를 했습니다. 어느날 정명석 총재는 '내가 말씀을 전하러 왔는데 축구를 너무 지나치게 하는 것이 아닌가?'하고 하나님과 성자께 미안한 생각이 들었습니다. 그때 주님께서 '축구도 하나님의 신앙을 보여주고 하나님께 영광 돌리는 것'이라고 깨우쳐 주셨습니다. 정명석 총재는 '주님의 은혜구나.' 하고 큰 은혜를 받고 계속 축구를 하게 되었습니다.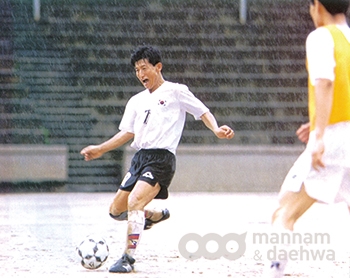 정명석 총재는 운동장에서 축구 할 때는 축구만 하지 않고 건강한 몸으로 하나님께 전도를 많이해드리자고 하여, 축구장에 구경 온 자들을 전도하여 하나님을 믿고 사랑하게 했습니다. 정명석 총재는 주님께서 축구를 통해 섭리 역사를 이끌고 가는 방법을 알게 하셨고, 복음을 전하며 세상의 유혹을 이기고 승리하는 방법과 사랑을 가르쳐 주셨다고 말씀했습니다.


이처럼 축구를 하면서 상대팀을 적으로 생각하지 않고 애인으로 생각하며 '평화축구'를 주님께 배우고 가르쳐주신 정명석 총재. 그래서 섭리사에서 하는 축구는 단지 건강만 위해 하는 것이 아니라, 하나님께 찬양 드리며 주님의 사랑을 실천하며 복음을 전하고 세상의 평화를 이루기 위해 해왔습니다.

스포츠를 통한 하나님의 축복을 받게 된 한국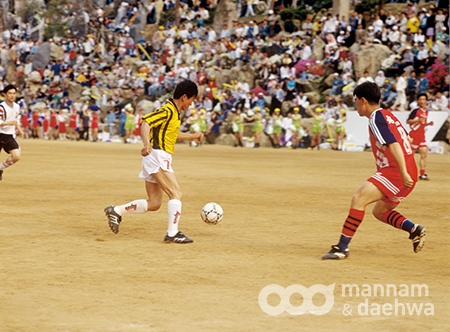 축구로 하나님께 드리는 찬양이 되었고, 영광이고, 말씀 실천하는 방법을 알게 되었습니다. 하나님께서는 그 조건을 보시고 세계에 알려지지 않았던 작은 대한민국에 각종 스포츠를 통한 축복의 역사를 허락하셨습니다.


한국은 첫 번째 1988년 서울 올림픽, 두 번째 2002년 한일축구월드컵 ,세 번째 2011 대구 세계육상 선수권 대회, 네 번째 2018년 평창 동계올림픽 을 개최하게 되어 독일, 이탈리아, 프랑스, 러시아, 일본에 이어 세계 6번째로 세계 4대 스포츠 행사를 모두 유치한 '세계 4대 스포츠 그랜드 슬램' 국가로 등록하게 되었습니다. 이로 인하여 국가 전체의 위상과 품격도 끌어올린 획기적인 계기가 마련되었습니다.